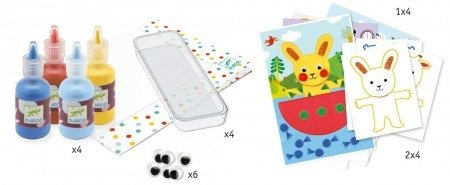 How to raise a young artist?
Many parents are counting on this very much, that their child will have some unique talents, that will distinguish them from their peers and make them, that it will have a lot easier in your life. Therefore, they often observe the behavior of children from an early age and try to find talents in them. This is a very good idea, to encourage the child to develop and try his hand at everything. Of course, you cannot overdo it, because childhood is the best time for a fun and stress-free life. So the child must not be forced to do anything, nor think of too many extra-curricular activities for him. They can be effectively discouraged from doing anything, even for activities, which under normal conditions would bring him a lot of joy and could become a real passion and a way to earn money in adulthood.
This should always be approached delicately and carefully. It is best for your child to propose things and check their reactions. If we can see, that the child can show artistic talents, there is no doubt that we must go in that direction. The first step, of course, is to praise your child and appreciate his or her hard work. If he prepares a drawing for his parents for many hours, it is good to hang it on the wall at home, or clipped to the refrigerator with a magnet, so that the child feels appreciated and noticed.
It is also necessary to work with the child. There are many exercises for this, to knead young hands and make them more plastic. For this purpose, it is best to draw circles and other shapes. It is also worth getting your child used to scissors, of course those intended for young children. Otherwise, it is necessary to invest in art supplies. If our child is doing great, let's observe, which gives him the greatest pleasure. If it is drawing with colored pencils, let's buy him a beautiful set of several dozen colored wooden crayons. You can also buy pastels for your child, or watercolor pencils, which draws like this, how normal, and then the entire picture is covered with water with a brush. This way you can conjure up real watercolor paintings.
The next step might be to buy a small wooden easel for your child. It is not a big cost, and such a purchase can be really fun for a child. Let's not be afraid of a mess in the room. Let's cover the floor with daily newspapers and play together with our child.
For slightly older children, you may be tempted to enroll them in drawing lessons. Such classes usually take place in larger groups, The child has a chance to meet other young artists as well. Usually they are led by a teacher by vocation, which teaches children many new painting techniques and methods. He also shows them their mistakes and teaches them, how to paint animals and people. It can also be a great anatomy lesson. Of course, not every child needs such activities, but for many young artists it is very valuable news, which will certainly be useful on the way. Such lessons are often organized by youth community centers.