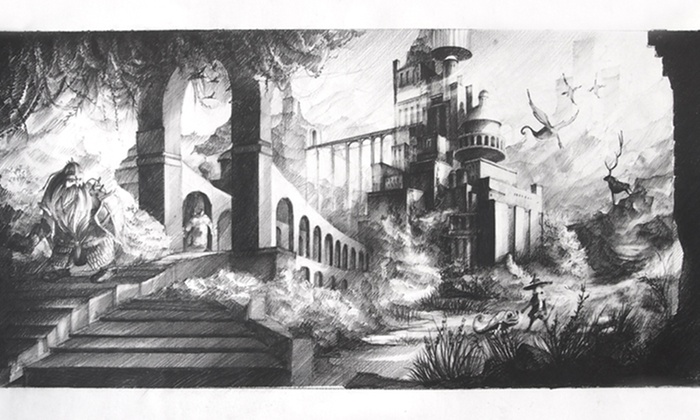 Professional drawing lessons.
Many parents see an artistic talent in their children, however, they do not quite know, what should they do with this talent, so that it is not wasted. Of course, that's not the point, to force the child to do anything. Often drawing for such a talented child is great fun and a real pleasure. It should stay that way too. A child forced to practice drawing can quickly become discouraged and bored. You mustn't do anything by force, because quite a different result can be achieved in this way. It's best to let your child draw in their own way at first. You can think of buying him good quality crayons in many colors, as well as poster paints, oil, or acrylic. The child should not be limited and panic in its cleanliness, when it tries to paint. He can get discouraged and upset quickly. So it is best to find a suitable place for it and prepare it. A table in his room, whether the desk can be simply covered with an oilcloth or an old linen sheet. Let the child get dirty and, above all, enjoy painting.
For slightly older children, you can already think about learning drawing and painting. Most cities organize painting lessons for children of a certain age, which are held in groups. Most often they are organized by youth community centers, as well as community centers and private schools for children. Some parents also choose to take private drawing lessons. However, it is not the cheapest solution. Otherwise, such lessons no longer take place in an atmosphere of laughter and fun, as in a group and the child may be less willing to approach them. Group lessons are primarily an opportunity to meet new colleagues with similar passions and interests. They are usually provided by young people, for example, students of fine arts, who love children and can find a common language with them.
As part of such classes, painting lessons, children learn all kinds of painting and drawing techniques, and learn about different types of paints and other instruments. They can try their hand at a pencil, as well as with dry and oil pastels, with watercolor and ordinary crayons, as well as with water-based paints, posters and oil paintings. Each child can choose something for himself and find out, which instruments suit him best. Otherwise, as part of such art classes, kids learn how to draw and paint animals, people and inanimate objects. They will learn about various simplified ways of drawing. They can also get to know perspective and learn to paint landscapes. Very often, during such lessons, it is possible to go to a larger group in the open air and paint the landscape surrounding the children. It is not only a great form of practical learning, but also great fun for children. The drawing and painting teachers care a lot about it, give each child the appropriate amount of time and help them develop their skills. Often thanks to them, the child discovers, that a technique is the easiest for him and he wants to keep using it. Not every parent can show their child different things on their own and teach them to draw and paint. Some, despite the most sincere intentions, they are unable to impart such skills, because they themselves do not have any artistic talent. Such lessons are a perfect solution for such parents. Most often, their price includes materials, which are unfortunately very expensive. It is worth looking for a lesson, which are co-financed from the city budget or, for example, from EU funds. You can then pay much less for them. They often cost much like private language lessons or sports activities, attended by the child.