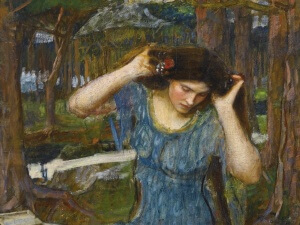 John William Waterhouse.
John William Waterhouse was a British painter, born in Rome in 1849 year. Undoubtedly, he inherited his artistic abilities to some extent from his father, which also introduced his son to the basics of painting. The future artist continued his education in painting at the Royal Academy of Arts in London. Although the painter's life fell on the second half of the nineteenth century, that is, the time of awakening new trends in art, for example, innovative impressionism, Waterhouse remained faithful to classical working methods. Art historians consider many of his works to be neoclassical, what is more, the painter is also called a Pre-Raphaelite. The members of an artistic association were called Pre-Raphaelites, operating in London from 1848 year. They considered it their artistic ambition to restore art to its original dignity, taking as an example the works of the Renaissance and rejecting the temptation to create works with scandalous overtones.
Illustrations for great narratives.
Even a cursory overview of Waterhouse's work gives an idea of ​​this, what were his creative ambitions and confirms the thesis, that he agreed with the postulates of the Pre-Raphaelites. In his creative imagination, mainly illustrations for great British narratives were born: the artist's paintings, as it were, pulled Arthurian legends out of the darkness of oblivion, they also gave new life to themes known from Shakespeare's plays. He was exceptionally inspired by strong and unusual female characters, appearing in these narratives and giving them a significant dose of drama. He especially devoted much creative attention to the figure of Ophelia, creating three images dedicated to her: Unfortunately, it was the work on the images of this character who was interrupted by his poor health, therefore it can only be presumed, that Ophelia would be the heroine of more canvases. Waterhouse, drawing patterns from classic works of art, he also willingly presented mythological scenes, he also focused on the image of allegorical figures. The picture, which gave him the greatest fame and honor during his lifetime was the portrayal of Dream and Death, shown as brothers and resting side by side, each in a different type of dream. The artist used oil paints, and his paintings are characterized by a masterful manipulation of light and chiaroscuro. This painter created over two hundred paintings during his lifetime, which he presented at annual exhibitions, organized by the Royal Academy. W 1895 he joined this honorable society, which significantly increased its prestige in the artistic environment.